Clear Skin Confidence: Skincare for Teens
An uncomplicated skincare course for teens ready to stop worrying about their skin so they can face the world with unshakable confidence.
Does this sound familiar?
→ You feel your skin has a mind of its own, out there to sabotage you. 
→ You shy away from the camera because you're self-conscious of your skin. 
→ You've searched high and low for the magic potion that will *finally* clear up your skin—your wallet suffering the consequences.
→ You've tried the viral products and 'hacks' preached by TikTok skincare gurus—sometimes even leaving your skin worse and more irritated. 
→ You're left with an arsenal of lotions, serums and moisturizers that you don't know how to layer or properly apply. Do I even need this? You wonder. 
Yet, no matter how much you try, you can't shake the feeling that maybe there's no solution for my skin…  
I get it. Our skin has a deep effect on our self-esteem and how we face the world. 
But, You deserve to feel good in your skin. 
Picture yourself with a reliable skincare routine that works for you and your lifestyle. You know how to adapt when your skin changes, and how to get the results you want with minimal products. 
Even better, you live life enjoying everything it has to offer without worrying about acne, redness, irritation, or oiliness. 
You don't have to think about your skin. You radiate confidence. 
Introducing…
 Clear Skin Confidence: Master Skincare for Teens 
A self-led skincare course to help you find the roadmap to longterm sustainable healthy skin.


You'll get the understanding and knowledge needed to care for your skin– you'll become your own skin detective!


We'll talk all things nutrition, sports, products and supplements to help you reveal your best skin.  
Here's the rundown:
Learn Gunilla's proven Skin Lab System

→ 20+ years of skincare experience poured into one tried-and-true system




5 modules with short pre-recorded videos

→ binge them, or watch them at your own pace




35 lessons covering everything from products to makeup, shaving and hair washing

→ so you know how to care for your skin from all angles




Practical video tutorials showing you the exact "how-to"

→ no more guessing the right order of products




Pre and post-workout best skin practices

→ learn a skincare routine adapted to your lifestyle




Create your S.O.S Skin Kit → for when your skin gets temperamental


Easy-to-follow downloadable material → take notes, follow along, and use them for future reference


Exclusive access to a supportive Facebook community

→ get answers to all your skincare questions

 


Unlimited access to the program and new updates

→ a one-time investment that will pay off for years

The Skin Confidence Course will guide you through every step to help you set a reliable skincare foundation for just $297.



EXTRA BONUS
Plus, get a FREE 30-minute virtual consultation with Gunilla. ($100 value). 


We'll kickstart your skin transformation with a 1-on-1 consultation where we'll assess your skin concerns, recommend the perfect products for you, and know how to get started with the program. 

That's not all.


You'll also get ongoing email support for a month to ensure all your questions are answered as they come up. 

That is $397 for only $297.  Pay in two payments of $165.00 or pay in full.

This is for you if…
→ You're suffering from acne, redness, irritation, dryness, or just temperamental skin


→ You feel like you've tried everything and nothing has worked


→ You're tired of spending money on products that don't work for you


→ You're ready to show your face without covering up 


→ You want to understand your skin, and know exactly what to do to keep it happy and healthy
Even if…
→ You're well past your teen years (skin confidence has no age)


→ You don't know where to start (I'll show you how)


→ You don't have any skin 'issues' but just want to learn the best way to care for your skin 
What parents are saying
"Great program!! My 15-year-old son and I were having a frustrating year dealing with teenage acne. We were over-treating my son's skin without paying attention to his sensitive complexion. Going through the program, taught us both how to take care of his skin the right way. His acne is now under control and no more redness."  - Marie C. Mother of 15-year-old
"I was initially skeptical worrying about my son not having the patience to sit through a skincare course, but the length of the videos were perfect." - Almudena K. Mother of 16-year-old
MEET YOUR SKIN COACH
Hi, I'm Gunilla — expert esthetician, founder of ISA ALEX, and mom of two teenagers. 
I believe that skincare goes beyond the products you use. Skin reflects your internal wellness, so considering your nutrition and lifestyle is essential to reveal a healthy glow.
Over the past 20 years as an esthetician, I've…
Gained a cult-like following for my facials considered to be "Better than Botox"


Got voted "Number One Facialist in San Francisco" by Allure Magazine


Developed  Scandinavian-inspired skincare line ISA ALEX offering pure re-balancing oils for every skin type
All while helping my clients…
Clear up their acne without antibiotics or Accutane (and, under 8 months)


Reduce severe skin inflammation and finally enjoy comfortable, painless skin 


Reveal healthy glowing skin 


Over time, my clients expressed a need to help their teens with acne, irritation, redness, and all the things that crush their confidence. As a mom of two teens, I understand how skin can impact self-esteem. 
So, I created Clear Skin Confidence where I pour my 20 years of experience, to help more teens take care of their skin the right way. 
My goal is to empower them with knowledge and understanding to care for their skin as it changes. No more 'hacks' or 'quick fixes,' we're aiming for long-term skin confidence!
"After starting the program, I don't wake up with such dry skin. It's losing redness successfully and anything that does pop up comes to the surface easily and heals a lot more quickly than I've ever seen!" 
- Dylan O
"Great program!! My 15-year-old son and I were having a frustrating year dealing with teenage acne. We were over-treating my son's skin without paying attention to his sensitive complexion. Going through the program, taught us both how to take care of his skin the right way. His acne is now under control and no more redness." 
- Marie C. [Mother of 15-year-old]
Need help?
Frequently Asked Questions
The complete course content is 4 hours long, but you can take it at your own pace. 

Feel free to jump ahead to the sections that are most relevant to you, it's your own learning journey!
Unlike a YouTube skin video, we're not recommending products and tips based on our skin. We equip you with the knowledge and understanding you need to take care of your skin from all angles (including nutrition, lifestyle, and even hair care). By the end of the course, you'll have a plan tailored for you, plus the tools needed to adapt as your skin changes. 
Everyone's skin is different and there are many factors like hormones and nutrition that affect your skin. It's unrealistic to promise completely clear skin at all times (and you should be skeptical of anyone who promises that), but we'll empower you with the knowledge to address new breakouts without harming your skin.
No. While I designed the course around concerns common during teenage years, this course teaches you the foundation for understanding your own skin. You can adapt the teachings to your particular age. 

This course is also beneficial for tweens as an introduction to skincare and help them develop a preventative treatment to reduce the chances of breakouts. 
This course is not gender specific, it covers concerns commonly experienced by all teenagers. The course does include modules on shaving and makeup for whoever needs it, if that's not you, you can simply skip it!
Time to stop with band-aid 'solutions' hoping you'll find the one that works. Become your own Skin Detective and master your skin.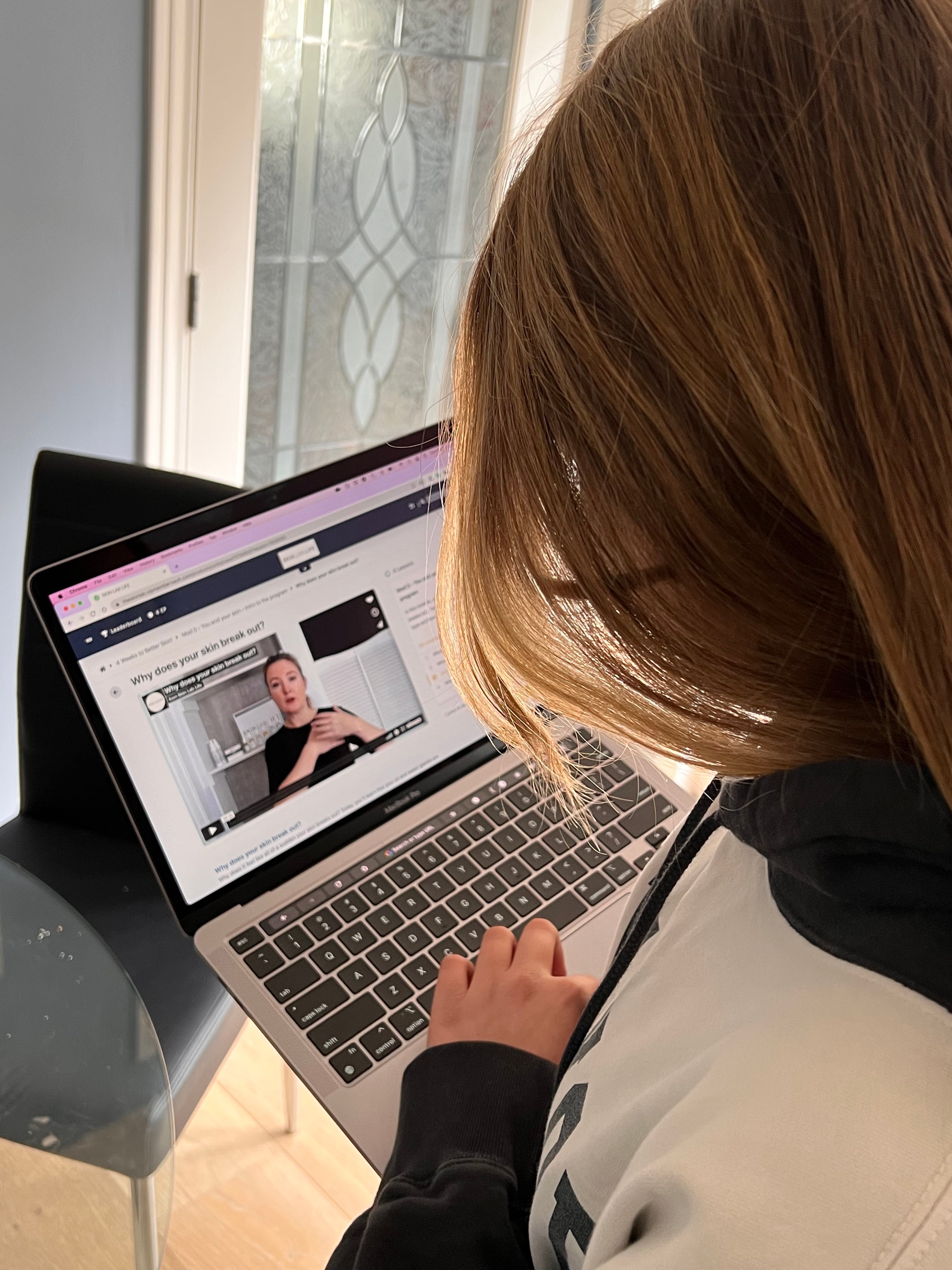 Teen Testimonial
"This is amazing and I'm so glad you created this program, cause so many people my age don't have any resources to get help for their skin and feel incredibly depressed, thinking they can't do anything about it. So grateful for this!" 
- Sophia K.
What would your skin look and feel in 90 days without The Skin Confidence Course? What would it look like with it?